Literary Translation and the Characteristics of Arabic and English
الكلمات المفتاحية:
Arabic Language، English Language، Literary Translation
الملخص
Literary translation is the translation of literature and it is one of the most important genres within the field of translation. It is a means of bridging two or more cultures through the exchange of the values, traditions, customs and social practices embodied in worldwide literary works. Adopting a descriptive approach, this paper provides a brief overview of literary translation. It focuses on the characteristics and literariness of Arabic and English as translation between these two languages has been participative in the process of filling up the gap between the Arab and Western cultures. This article highlights certain linguistic, structural and cultural issues usually encountered by literary translators as they treat literary products, especially between English and Arabic. It concludes that the development of literary translation in the Arab world, especially in the Maghreb, has been impeded due to foreign invasions of the region, limited sponsorship provided to Arabic English literary translators and the absence of coordination among literary translators.
Baugh, Albert C, and Thomas Cable. A History of the English Language. London: Routledge, 2013.
Chappell, Bill. "World's Muslim Population Will Surpass Christians This Century, Pew Says." NPR, 2 Apr. 2015, www.npr.org/sections/thetwo-way/2015/04/02/397042004/muslim-population-will-surpass-christians-this-century-pew-says. Web. Oct 20, 2017.
Cordner, Michael, et al. "English Literature." Encyclopædia Britannica, Inc., 13 July 2017, www.britannica.com/art/English-literature. Web. Aug 13, 2017.
Crystal, David. English as a Global Language. Cambridge: Cambridge University Press, 2003.
"Definition of INFLEXION." Dictionary by Merriam-Webster: America's Most-trusted Online Dictionary (n.d.). www.merriam-webster.com/dictionary/inflexion. Web. Sept 17, 2017.
"Intonation Meaning in the Cambridge English Dictionary." Cambridge Dictionary | English Dictionary, Translations & Thesaurus. (n.d.).dictionary.cambridge.org/dictionary/english/intonation. Web. Oct 18, 2017.
Meakin, Sandra. Languages and Cultures in English-Language-Based International Schools: A Guide for Teachers. Petersfield, Hampshire: European Council of International Schools, 1987.
Ofek, Hillel. "Why the Arabic World Turned Away from Science." The New Atlantis. (2011): 3-23.
Owens, Jonathan. The Oxford Handbook of Arabic Linguistics. Oxford: Oxford University Press, 2013.
Shoebottom, Paul. "Language Differences." A Guide to Learning English, 2011, esl.fis.edu/grammar/langdiff/arabic.htm. Web. Aug 7, 2017.
The Editors of Encyclopædia Britannica. "Arabic Language | Semitic Language." Encyclopædia Britannica, inc., 2017, www.britannica.com/topic/Arabic-language. Web. Sept 6, 2017.
Vartika, Hada. "History of the English Language." Gujarat: Gujarat National Law University, 18 July 2015, www.docsity.com/en/history-of-the-english-language-1/566073/. Web. Nov 18, 2017.
Whitaker, Brian. "Language Barrier." The Guardian, 20 Sept. 2017, www.theguardian.com/world/2004/sep/23/worlddispatch.books. Web. Oct 16, 2017.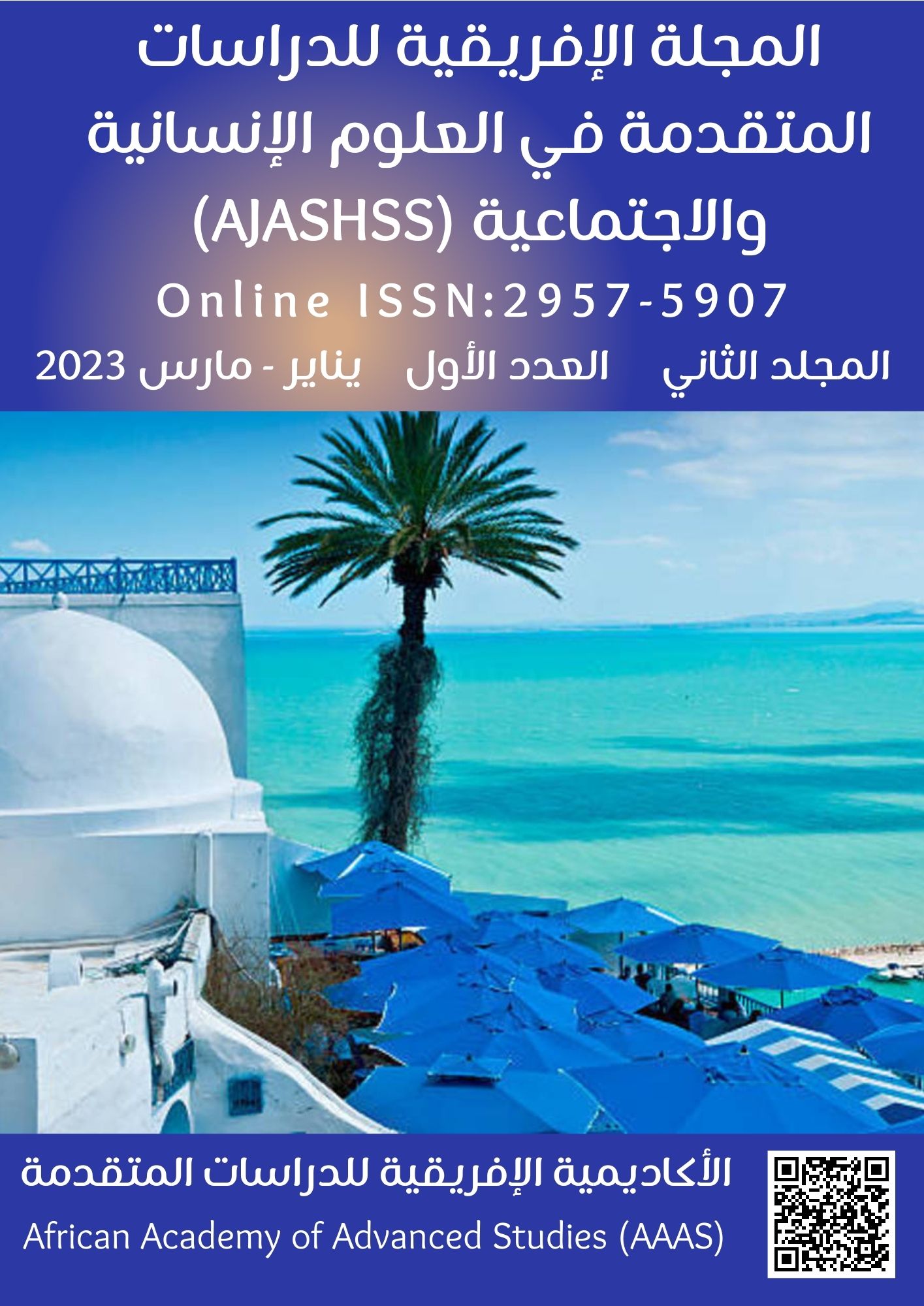 كيفية الاقتباس
Ahmed Mohamed Lemine El Mokhtar. (2023). Literary Translation and the Characteristics of Arabic and English. المجلة الإفريقية للدراسات المتقدمة في العلوم الإنسانية والاجتماعية (AJASHSS), 2(1), 101–106. استرجع في من https://aaasjournals.com/index.php/ajashss/article/view/212
Copyright & Licensing
هذا العمل مرخص بموجب Creative Commons Attribution 4.0 International License.